Customer's Testimonials
It's always nice to hear a kind word or a compliment, no matter who you are. And we, here at Moberly Motors, would like to Thank You, our customers....for thanking us!!!!
Welcome to your Moberly Motors customer testimonial page. Here you have the opportunity to browse photos and read what some of our customers have to say about their experiences with us, at Moberly Motors. Customer satisfaction is our number 1 priority and we strive to deliver! With a dedicated sales team, a committed service/parts department and a state of the art body shop, Moberly Motors is here to serve you.....THE CUSTOMER! And with that, we would like to say Thank You. Thank you for your patronage, thank you for your kind words and thank you being part of our Moberly Motors family. We are proud to have the opportunity of working with all of you and look forward to serving you in the future!
---
Charles Jorgenson
Moberly, Mo
2012 Ford Explorer
"Took care of the Oil change and Tire roataion just great! Great Service!
---
Tina A.
Salisbury, Mo
2012 Ford Escape
"The staff at Moberly Motors is amazing to work with. From the first inquiry on their website; to the purchase, through financing; the transaction was easy and flawless. Thanks to Jayme, Greg and Denise for helping me get the vehicle I always wanted."
---
Dennis S.
Moberly, Mo
2012 Ford F-150
"I was very pleased with Moberly Motors and will be a return customer. I have already recommended the dealer to multiple co-workers and friends."
---
Adam D.
Macon, Mo.
2012 Ford F-150
"Wes Atkins did a great job. Did not pressure and worked with us the entire time. Very pleased with the purchase of our truck and the way Moberly Motors treated us during the process."
---
Betty F.
Macon, Mo.
2004 Ford Explorer
"As usual, staff were professional and I was quickly in and out."
---
John C.
Moberly, Mo
2012 Ford Expedition
"Greg Walker and the entire staff at Moberly Motors are excellent. Always a great experience trading there."
---
Tyler H.
Moberly, Mo.
2012 Ford F-150
"Greg Walker was great during our sales experience. He was just the right amount of sales and friendliness to make the experience work. We actually chose him over a sale at a much larger dealer in Mo, actually he largest volume dealer in our state. But we wanted to give him the sales because he was very good to us. He didn't make extravagant promises and was honest with us. He gave us a fair deal on our trade with which we were both comfortable I will in the future give our business to Greg and Moberly Motors."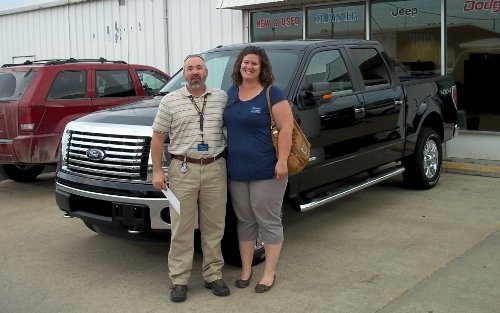 ---
Brent F.
Anabel, Mo
2013 Ford F-250
"Excellent sales team. Wes Atkins and Gregg Jeacques are terrific. Also I have had a good experiences with the Service department. I like doing business with a local dealer, when you walk thru the door they know you. That's Important!"
---
Sharon S.
Moberly, Mo.
2013 Ford Fiesta
"Everything went perfectly. Our 2013 Fiesta Titanium 5dr hatchback is that we have purchased from Marty Halliburton at Moberly Motors, since 2005. As our salesman of record, Marty has always been there for us every step of the way. Before, during and after the purchase process has been completed, Marty always does everything he can on our behalf to see to it that everything goes as smoothly as possible. We would also like to compliment Marty's co-worker and friend Mr. Calvin Vilt Sr., whose helpful assistance and courtesy during the sale were also greatly appreciated!"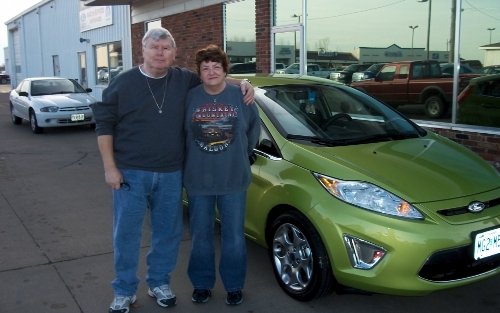 ---
Janie R.
Moberly, Mo.
2003 Ford Explorer
"I love dealing with friends and that is what Moberly Motors is to me."
---
Donald D.
Cairo, Mo.
2012 Ford Edge
"We are very satisfied with the salesmen at Moberly Motors. They go out of their way to please. We did have a friend to go down and buy a car from them. They are well satisfied also."
---
Dannie H.
Madison, Mo
2012 Ford Escape
"The folks at Moberly Motor are friendly, knowledageable and easy to work with."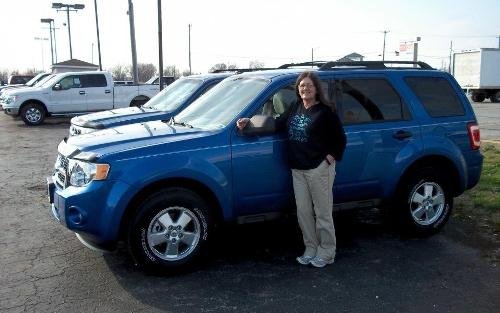 ---
David M.
Moberly, Mo
2010 Ford Focus
"Just the perfect dealership for all automotive needs. Parts, Service, Sales, Body Shop Departments are the greatest."
---
James G.
Clifton Hill, Mo
2012 Ford Escape
"I always buy at Moberly Motors and I am always pleased!!!!"
---
Herbert M.
Atlanta, Mo. 2012
Ford F-150
"We would highly recommend the salesman we had and his name was Wes Atkins"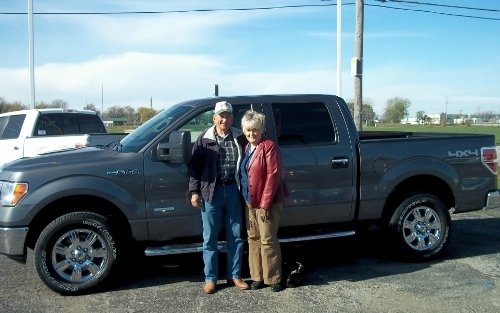 ---
Debbie M.
Moberly, Mo
2013 Ford Explorer
"Love working with the salesman and sales manager."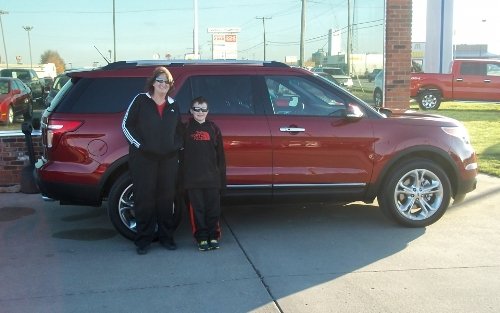 ---
Everett M.
Moberly,Mo.
2013 Ford Taurus
"Marty Halliburton was very helpful and knew allot about the SYNC system. I would recommend Marty and Moberly Motors to all my friends and family."
---
Terry T.
Atlanta, Mo
2013 Ford Escape
"Very friendly, service oriented and perfessional"
---
Ray Sandstrom
Novinger, Mo
2012 Ford F-150
"Calvin has been the best salesman we have ever delt with."
---
Carol Painter
Glasgow, Mo
2012 Ford Fusion
"Calvin is an excellent salesman. He was very good at explaining everything to me."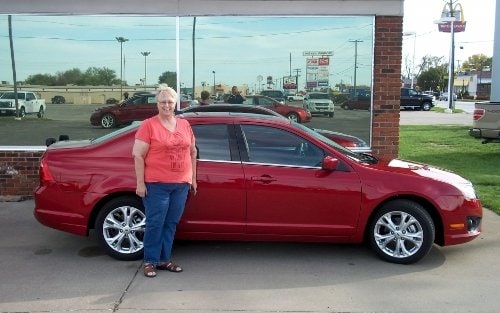 ---
Melissa D
Mobridge, SD
2002 Chevy Suburban
"Jayme is the greatest! We told her want we were looking for and she found it."
---
Velma C.
Moberly, Mo
2012 Ford F-150
"The Salesman was good at helping me out and worked hard at getting me the one I want."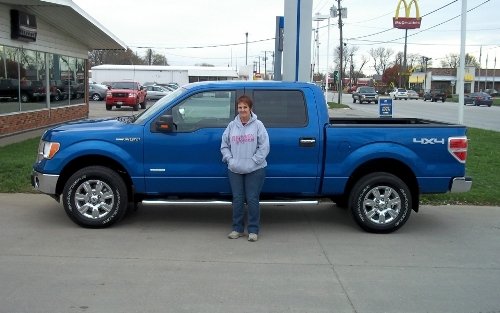 ---
Terry Stark
Excello, Mo
2012 Ford Focus
"Very satisifed and love the idea that they are close to home. Couldn't ask for better service!"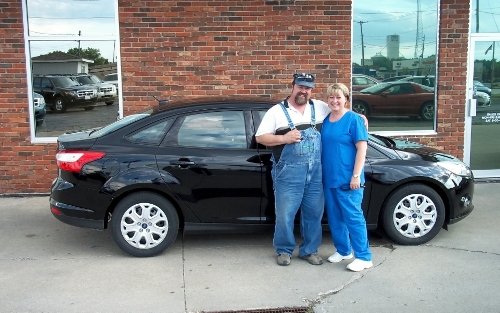 ---
Jared H
Moberly, Mo
2004 Ford Taurus
"I would happily purchase my next vehicle from Moberly Motors!"
---
Tim O'Connor
Excello, Mo
2012 Ford F-150
"Great, All the sales people, manager, and finance person were wonderful."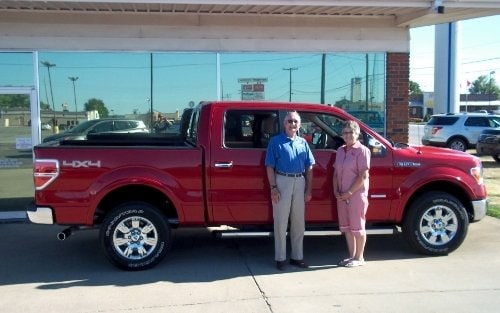 ---
Donald L.
Macon, Mo
2012 Ford F-150
"Very well taken care of."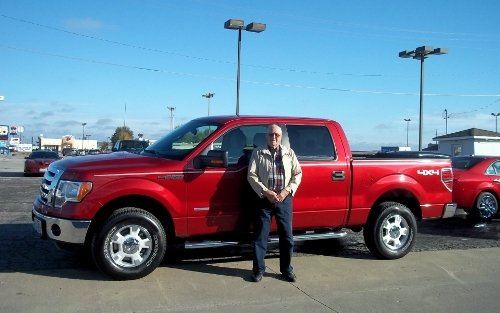 ---
Janice and Stuart B
Hale, Mo
2012 Lincoln MKX
"We appreciate the excellent service that we have always received from Moberly Motors. Any of our concerns or service are always taken care of to our satisfaction."
---
Randall W.
Bevier, Mo
2012 Ford F-150
"We were very satisfied with the dealership."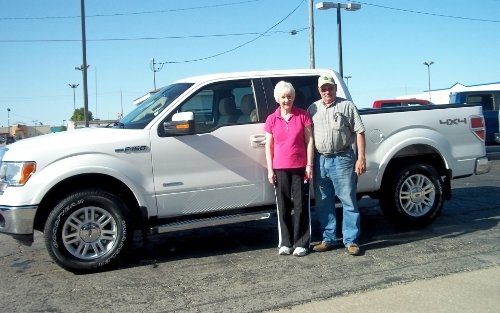 ---
Alan M.
Harrisburg, Mo
2012 Ford F-150
"Calvin, Denise and Gregg are the best at what they do. They know how to take care of and old man. Sharon and I enjoy the atmosphere and the people at MMC."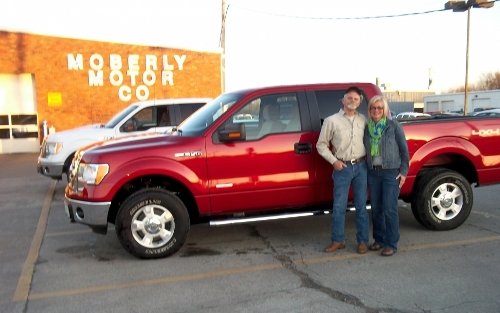 ---
Donald and Linda S.
Ethel, Mo.
2012 Ford F-150
"We had a very good salesman, his name was Marty Halliburton. He told us all about the truck and showed us how to use everything about it. Over all we could not of found a better salesman. He sold us on the truck."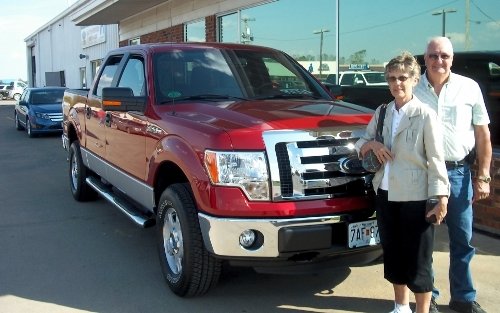 ---
Luther T.
Clarence, Mo.
2013 Ford Escape
"Moberly Motor Co is very nice and they know allot about their vehicles. Our Sales Rep. Marty Halliburton was very helpful and was very easy to work with."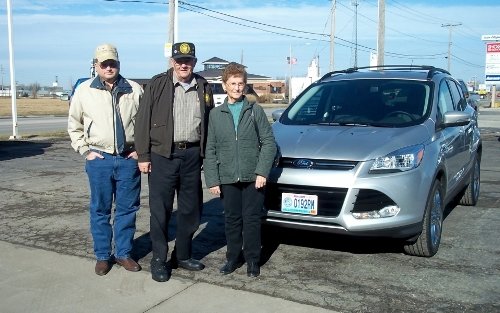 ---
Donna T.
Paris, Mo.
2013 Ford Escape
"I could not be happier with my experience with Moberly Motors. They were wonderful. This is the second new car I have gotten there. The last was a while back, in 1991. I will always consider them at the top of the list if I am looking for a vehicle. They were great and most helpful. Wonderful people!!"